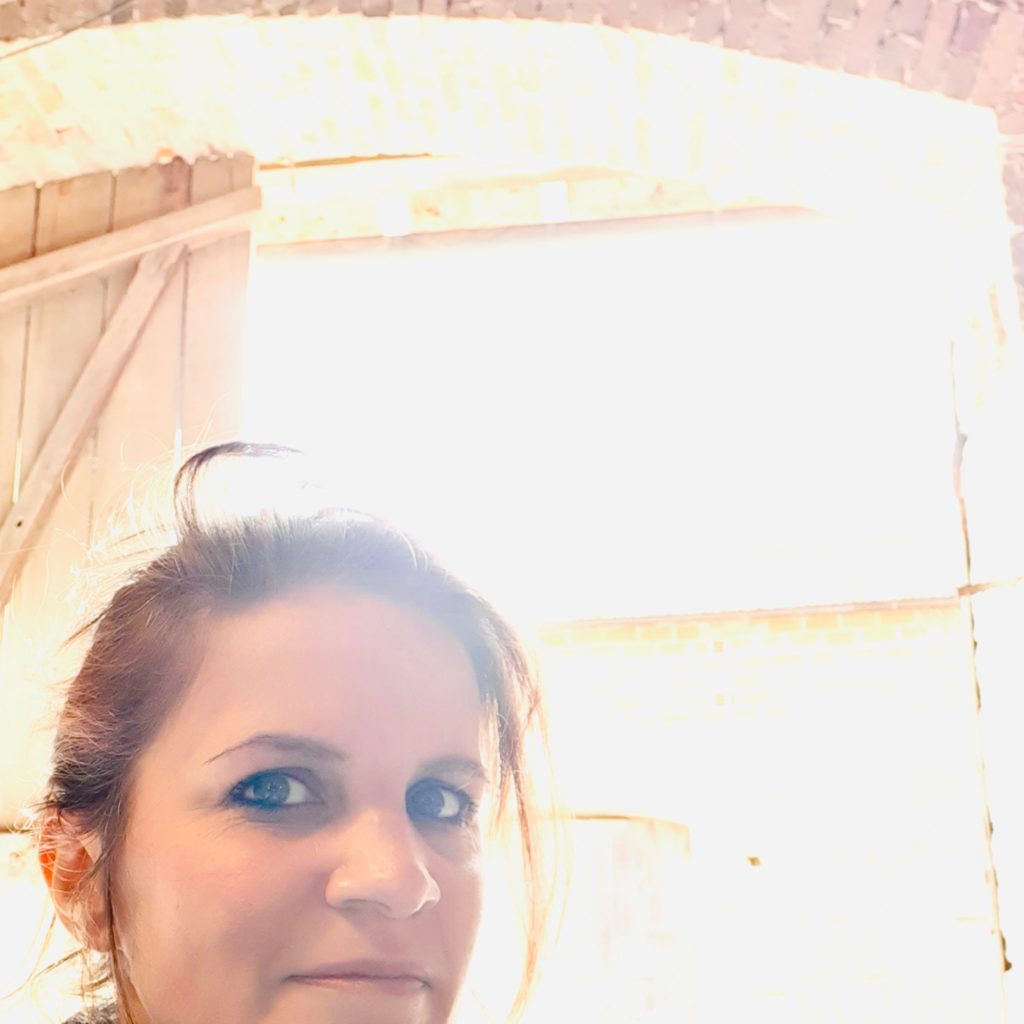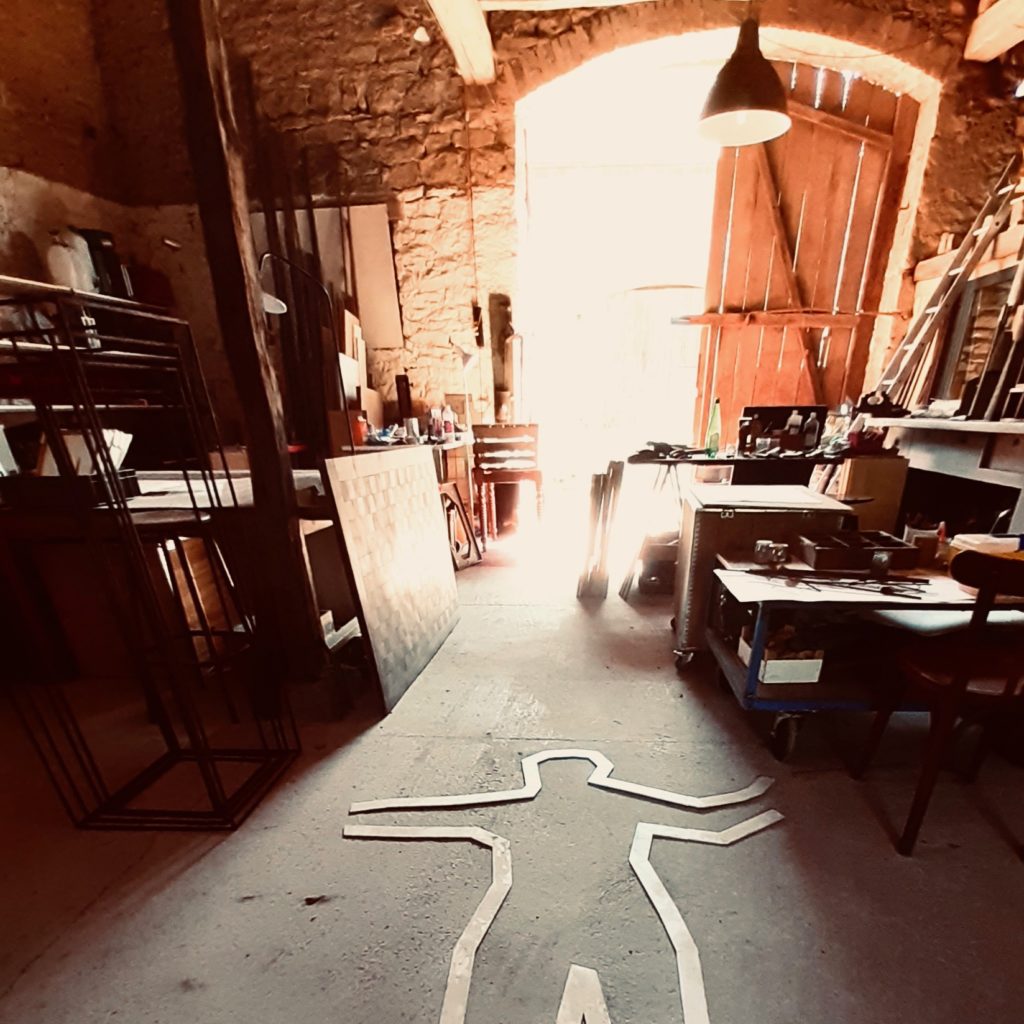 Born in Burgundy in the spring of 1977 in an isolated hamlet located a few metres from an abbey, Édith Basseville grew up surrounded by woods and vineyards. Coming from a family of naturalists and art lovers, influenced by her grandparents' collections, she explored the countryside, observed the unusual in her environment, and collected fragments of nature from an early age. She also photographed and drew what would become her later sources of inspiration.
In 1996, Édith began formal studies in fashion design, during which she became interested in drawing bodies modelling ornaments and fabric, and experimenting with textiles. Designing clothing lines for industrial production did not suit her, so she decided to push the limits of the discipline. In 2000, she obtained a diploma in sculpture at the École Nationale Supérieure des Arts appliqués et des Métiers d'Art where she carried out further research on textiles involving flattening, braiding and weaving metal yarns allowing them to unfold in space.
In 2001, barely out of her studies, Édith's technical skills led her to join a workshop dedicated to the conservation and restoration of ethnographic objects and sculpted works for Monuments Historiques. She thus specialized in the "plinth" of collections. Her approach forges a synthesis of enhancing an object with its preventative conservation. This has allowed her many opportunities to work for national museums and private collectors in the context of museographic arrangements for both temporary and permanent exhibitions.
During this first decade, she additionally became interested in functional objects. While continuing her research through drawing and sculpture, she pursued a notable interest in creating assemblies from animal bones.
Édith devotes the majority of her time to artistic activity. In 2012, during an exhibition of Karl Blossfeldt works at the Buffon Museum in Montbard, the Parisian gallery owner, Philippe Samuel, noticed her wire sculptures and decided to promote her work. During this period, she also explored calligraphy and xylography, experimenting with new modes of graphic expression and continuing to diversify her techniques.
Her works are regularly exhibited in France. In 2018, she presented her sculptures in Germany in Berlin.
Galeries
2020 à nos jours : Galerie Cabottine – SEMUR-EN-AUXOIS – FR
2015 à 2020 : Galerie Gaïa – NANTES – FR
2012 à 2015 : Galerie Philippe Samuel – PARIS 3ème – FR
Résidences
2021
4 semaines – Musée municipal – SEMUR-EN-AUXOIS – FR
2 mois – Service culturel de la Ville – PLOUMAGOAR – FR
Principales expositions depuis 2011
2021
TRIO – Entre les lignes – avec Damien Racine et Jérémy Soheylian – Musée municipal – SEMUR-EN-AUXOIS – FR
DUO – Ultime – avec Marie Javouhey – SEMUR-EN-AUXOIS – FR
2020
SOLO – Chemin faisant – Galerie Cabottine – SEMUR-EN-AUXOIS – FR
2018
TRIO – Begegnung – avec Marie Javouhey et Suzanne Obrecht – Galerie Sievi – BERLIN – ALL
Rabotage – Festival Rabotage – SEMUR-EN-AUXOIS – FR
2017
Rabotage – Festival Rabotage – SEMUR-EN-AUXOIS – FR
2016
DUO – avec Clothilde Lasserre – Galerie Gaïa – NANTES – FR
Rabotage – Festival Rabotage – SEMUR-EN-AUXOIS – FR
Page blanche – La Ménagerie du 27 – MONTBARD – FR
Hasards pour Morgane – Galerie Gaïa – NANTES – FR
2015
L'oiseau blanc – Festival Une bouteille à la mer – La carrière – VISERNY – FR
Transition – Galerie Arts Pluriels et Galerie Gaïa – NANTES – FR
2014
Foire Internationale Art Élysées – Stand Galerie Philippe Samuel – PARIS 8ème – FR
L'oiseau blanc – Festival Arbre en scène – Parc Billoux – MARSEILLE – FR
Manifestation Internationale d'Art Contemporain – Puls'art – Centre culturel – LE MANS – FR
2013
Prix Jeunes Talents – Ateliers Vortex – DIJON – FR
Foire Internationale Art Élysées – Stand Galerie Philippe Samuel – PARIS 8ème– FR
SOLO – Tensions– Musée municipal – SEMUR-EN-AUXOIS – FR
Invitée d'honneur – CMA – Palais des Ducs de Bourgogne – DIJON – FR
2012
Foire Internationale Art Elysées – Stand Galerie Philippe Samuel – PARIS 8ème – FR
DUO – Dessins – avec Jérôme Laureau – Galerie de l'OT – VITTEAUX – FR
SOLO – La nature vue de près – Hommage à Karl Blossfeldt – Musée Buffon – MONTBARD – FR
Entrelacer, des lignes au volume – Centre culturel Arcade – STE COLOMBE-EN-AUXOIS – FR
Trophées – Le sens du poil – Festival de Curiosités – Hôtel Buffon – MONTBARD – FR
L'atelier métal depuis 4 générations 1922-2012 – ENSAAMA Olivier de Serres – PARIS 15ème – FR
2011
Le textile – Made in Bourgogne – Centre culturel Arcade – STE COLOMBE-EN-AUXOIS – FR
Design au paradis– Hors-les-murs – Arcade – Musée Buffon – MONTBARD – FR
SOLO – Les incorporelles – Festival des Curiosités – MONTBARD – FR
Biennale des Rencontres Artistiques F. Pompon – Arts et matières – SAULIEU – FR
Formation
2000 : E.N.S. des Arts Appliqués et des Métiers d'Art – DMA Sculpture – PARIS – FR
1998 : École Supérieure des Arts Appliqués – BTS Stylisme de mode – PARIS – FR
Distinctions et récompenses
2012 : Prix départemental – création contemporaine – 1er prix – CMA Région Bourgogne
2011 : Prix jeunes talents Côte-d'Or – création contemporaine – 2ème prix – Conseil Général Côte-d'Or